Sunnyside Acura invites the
Manchester, New Hampshire
community to experience
the many benefits of buying a new or used Acura at Sunnyside Acura!
Sunnyside Acura is located approximately 15 minutes south of Manchester, New Hampshire. To get to Sunnyside Acura from Manchester, NH you simply get on Rt 3A South and take exit 8 toward Milford and Amherst. Sunnyside Acura will be less than a mile up on your left.
Sunnyside Acura has successfully built long lasting relationships with clients in the Manchester New Hampshire area due to the value before and after the sale. Please contact us at your earliest convenience with any sales related questions or service related needs.
Please use the map below when planning your visit. If you would prefer door to door directions please click the link below.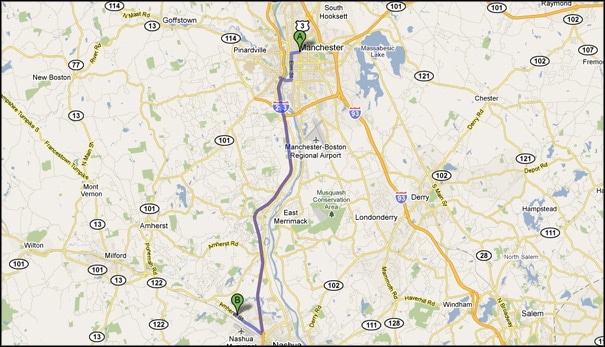 Click Here to setup specific door to door directions from
Manchester, NH to Sunnyside Acura in Nashua, NH



Text based directions from Manchester, NH are below:

Driving directions to Sunnyside Acura from Manchester, NH

Suggested routes
24 mins | Frederick E Everett Turnpike | 19.1 mi
26 mins | Frederick E Everett Turnpike & Continental Blvd |18.5 mi
This route has tolls.

Manchester, NH
1. Head west on Bridge St toward N Beech St
0.4 mi
2. Turn left at Elm St
1.5 mi

3. Turn right at Queen City Ave
0.6 mi

4. Turn right at New Hampshire 114A W/Second St
167 ft

5. Turn right onto the I-293/New Hampshire 3A ramp to Concord/Boston | Toll road
217 ft

6. Keep right at the fork to continue toward I-293 S/New Hampshire 3A S and merge onto I-293 S/New Hampshire 3A S
Toll road
1.5 mi

7. Continue onto Frederick E Everett Turnpike
Partial toll road
13.0 mi

8. Take exit 7W for State Route 101A W/Amherst toward Milford
0.2 mi

9. Turn right at Amherst St/New Hampshire 101A W/State Route 101A W
1.8 mi

10. Make a U-turn at Deerwood Dr
Destination will be on the right
0.1 mi

Sunnyside Acura
482 Amherst St
Nashua, NH 03063-1224
If you would prefer to contact a member of our sales team via email please use the contact form below and one of our knowledgeable internet sales consultants will get back to you as soon as they can. You can also call our sales team directly at (877) 427-7182. We look forward to assisting you and making your visit from Manchester, NH well worth it.